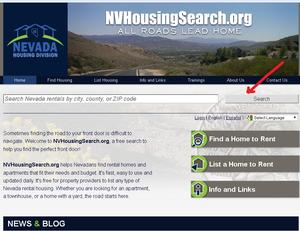 Using the NVHousingSearch.org searchbar to find a new place to live in Nevada
There are many ways to find the rental listings you are most interested in on NVHousingSearch.org. Starting from the home page, you can type your location into the search bar, or you can hit the "Find a Home to Rent" button, or click on "Find Housing" on the menu tab just beneath the web banner.
Using the searchbar is a particularly fast way to get to your listings. It is located towards the top of the page directly under the menu tabs and web banner. Just enter a Nevada zip code, the name of a Nevada city or a county and click "Search." For example, type in "Henderson" and click "Search." The listings in Henderson will now appear. Now if you'd like to narrow down the listings you can use the "Refine or Restart your Search" button which will bring up the filters where you can choose a certain number of bedrooms or bathrooms, rent range and so forth. The "Refine or Restart your Search" button can be found just above your first listing.
Don't forget that the same listings are also available through the bi-lingual call center at 1.877.428.8844. The call center is open 6 am to 5 pm Monday through Friday. The call center staff can help you find listings. They can also fax, email or mail you a letter with your preferred listings.