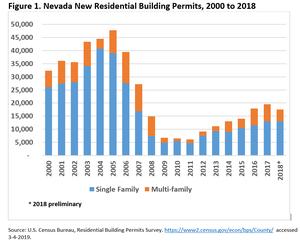 Nevada New Residential Construction Building Permits Trends
State residential building permit activity decreased in 2018 as compared to 2017, the first decrease in the annual total since 2011. This year 17,453 permits were issued as compared to 19,544 last year. The decrease was due to nearly static permitting activity in single family and a decrease in multi-family permitting. Using the 2018 preliminary data, total units permitted in 2018 were about 10% lower than 2017. In contrast, for the U.S. as a whole and for the western region, permits increased 3%.[i]
Why is permitting activity down in Nevada? Dr. Eugenia Larmore of EKay Economic Consultants points to rising construction costs limiting affordability. According to Dr. Larmore, "Developers are building as much as they can sell, but there is very little speculative construction. On the demand side, we certainly see a lot of demand with people moving to the area for jobs, but its limited by affordability factors, driven in part by rising construction costs and resulting price increases. Considering these factors, it makes sense that our future construction, as represented by building permits, is slowing."
Nevada has seen significant recovery of building permit activity in the last several years, from 6,163 units in the lowest year of the recession, 2011, to 17,543 units in 2018 (preliminary) but total units permitted were still 63% lower than the peak of 47,728 units permitted in 2005 at the pre-recession height.
About a quarter of the units permitted (4,501) were in buildings with five or more units, that is, multi-family apartments.[ii] The proportion of multi-family units was close to the 21st century average. Since 2000, multi-family permits have averaged 24% of total new residential construction permits.
Washoe County 2018 total permits (preliminary) were down 3% year over year. Washoe County jurisdictions issued permits for 4,437 units. Clark County preliminary permits issued were down 15% as compared with 2017 at 11,944. Washoe County multi-family permits were down 11% over 2017's record level to 2,150 units, but were still almost 50% of total residential permit activity.[iii] Clark County 2018 multi-family permits were down 45% from 2017 to 2,221 units.
For more information see Housing Market Data on the Nevada Housing Division Low Income Housing Database page.
[i]U.S. Census Bureau, Residential Building Permits Survey. https://www2.census.gov/econ/bps/County/ , accessed 3-4-2019
[ii] Multi-family is defined as units in structures with 5 or more units. During review of the preliminary data the Census Bureau may sometimes reclassify units that permitting agencies classified as multi-family units that are townhouses to single family.
[iii] Washoe County Multi-family units permit data were examined back to 1980. 1980 to 1989 data was from SOCDS Building Permits Databaseon the U.S. Housing And Urban Development website:https://socds.huduser.gov/permits/ accessed 5-1-2018