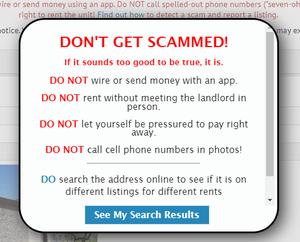 Protecting Renters from Scams
In Nevada rents are up dramatically and vacancies are hard to find. Depending on their personal situation, renters can not be blamed for feeling some level of panic, a panic that may drive them to take risks they shouldn't. At the same time, scammers placing false listings on housing search websites have become more pervasive and creative during COVID, taking full advantage of minimized expectations of face-to-face interactions and normal property inspections.
Our partners at Emphasys Software and Socialserve.com have always taken steps to protect consumers from rental scams and have been increasing protective measures throughout the pandemic. They have processes in place to identify scam listings and fraudulent accounts both behind the scenes and through live call center intervention. Another critical component of their approach is the increased prominence of scam alerts on their website pages to ensure visibility and help protect consumers.
A popup message about how to avoid scams now prominently appears before searchers can view property listings on NVHousingSearch.org. Use the "Report Listing" feature found on all property results pages to report a suspicious listing.
Here are some of the top tips for foiling rental scammers:
If it sounds too good to be true, it is!
DO NOT wire or send money with an app.
DO NOT rent without meeting the landlord in person.
DO NOT let yourself be pressured to pay right away.
DO NOT call cell phone numbers in photos!
To learn more about protecting yourself from scams visit these websites:
Information about Housing Scams from USA.gov
How to Protect Yourself from Scams from our partners at Socialserve.com