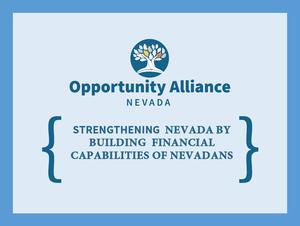 Free Financial Navigator Services Through Opportunity Alliance of Nevada
If you or someone you know are experiencing financial stress and anxiety you are not alone. Consider calling the Opportunity Alliance of Nevada (OANV). Their trained volunteer navigators may be able to help.
The Covid-19 pandemic has created unprecedented financial upheaval for many Nevadans. Many are wondering how they will pay next month's rent or mortgage payment, or perhaps several months of back rent or payments, as well as other new debts incurred while unemployed, under-employed, or while waiting for unemployment insurance. One valuable program helping families who are searching for a way back to financial stability is the Volunteer Financial Navigators program at Opportunity Alliance of Nevada (OANV). OANV navigators walk with you through your current money needs to identify opportunities, resources and pathways to financial stability. Navigators can help individuals and families get back on track financially with an individualized spending and action plan. Trained navigators provide free one-on-one guidance over the phone. Navigators help connect families and individuals to many available resources such as rental assistance, mortgage mitigation, credit counseling, emergency funds, healthcare resources and more. Services are confidential and non-judgmental.
OANV navigators can also help property managers and owners find rental or other assistance for their tenants. Property managers can refer tenants to the OANV navigator program.
"The Volunteer Financial Navigators helped my family with resources and relief from the financial and emotional stress that many of us are currently facing". "I was worried about paying my rent and was able to get help for my basic needs and receive guidance to better budget the funds I am receiving". "The volunteers are friendly, helpful and non-judgmental." These are some of the comments from individuals using the OANV volunteer navigator service recently.
To request a volunteer navigator, you can email your request to Navigator@OANV.zendesk.com or call or text (202) 925-8209. For more details see the website at Find a Navigator.
OANV is a nonprofit organization funded through grants and donations.