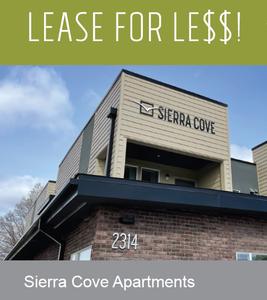 New Sierra Cove Apartments to Open in Sparks
As of June 2022, Northern Nevada Community Housing (NNCH) is taking applications for its newest affordable housing project in Sparks, called Sierra Cove. The apartments are projected to be finished and open by late summer. Contact NNCH at (775) 337-9155 x107 or sierracove@nnch.org for more information.
Sierra Cove, an affordable family property, is located on Greyhaven Lane in Sparks, only 22 miles from the Tahoe Reno Industrial Center. It provides 20 two-bedroom apartments and 14 one-bedroom units in a two-story walk-up. Each unit will have a washer and dryer. Outside amenities include barbeque and picnic facilities, play equipment and recreation area. Other amenities on the site include a community room with warming kitchen, computer center and library. The property will have gated access with security cameras throughout. It has a large solar array that will provide at least 12% of the property's electricity needs. The property is 100% veterans preference and is affordable to households at 50% of area median income and below. Income restrictions apply.
NNCH is a non-profit Community Housing Development Organization whose mission it is to develop, own and manage high-quality affordable housing coupled with supportive services. NNCH currently owns and manages 18 affordable properties in Reno, Sparks, Carson City, Fernley and Winnemucca.