Opening of Reno's largest new senior affordable property in two decades celebrated April 2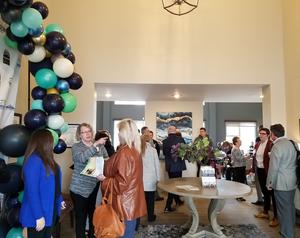 Grand Opening for Vintage at the Crossing in South Reno
Nevada Governor Steve Sisolak and Reno Mayor Hillary Schieve were among the speakers at the grand opening for a new affordable senior property in south Reno, Vintage at the Crossing, on April 2nd. The new development has 144 one-bedroom units and 86 two-bedroom units for seniors age 55 and up. It is the largest new affordable senior development built in Reno since 1999. Also speaking at the event was Dane Hillyard, co-founder of Greenstreet Companies, who along with Vintage Housing, are developers of the new property. Greenstreet Companies and Vintage Housing have developed both market and affordable properties previously in Reno and currently are developing two additional affordable family apartment communities in the region.
Some of the amenities included within the units are washers and dryers, patios or balconies, pantries, white cabinetry, granite countertops, black appliances, as well as the usual kitchen amenities. The apartment complex was built to high accessibility standards so as to meet the needs of residents with disabilities. For example, all units include low-ply carpeting and large accessible bathrooms. Community-wide amenities include a community room with kitchen, sun room, formal dining room, arts and crafts room, reading room, billiards room, business center, cinema room with movie theater seating, storage lockers (for additional cost) and fitness facility with cardio equipment, weights and yoga area. Outdoor amenities include limited lot parking, bike parking, and a garden area. Vintage at the Crossing is located near retail shopping, a bus route and hospital services.
Entities making the new apartment complex possible include the State of Nevada Housing Division, City of Reno, Greenstreet Companies, Vintage Housing, Citibank N.A.and AEGON USA Realty Advisors.
The property is being managed by FPI Property Management. A few of the two-bedroom units were still available as of April 2nd, 2019. Please contact the FPI Property Management team for more information. Call 234-4797 of contact through email.
Email: vintagecrossings.lease@fpimgt.com
Website: www.vintageatthecrossings.com